– Det er alltid fantastisk å besøke Norge. Dere leser jo faktisk i dette landet, og det er en glede å møte norske lesere. Bokhandlerne er nydelige, og til og med bøkene har nydelige omslag. Jeg holdt på å kjøpe Ibsens samlede verker på norsk i stad, bare fordi omslaget var så fint, sa Hislop, da BOK365 møtte henne torsdag kveld.
Dette er sjette gang den britiske forfatteren gjester Norge, og det er i anledning utgivelsen av De som er elsket. Hun stod på scenen under Vigmostad Bjørkes høstlansering i Gamle logen i går kveld.
Hislop tok verden med storm i 2007 med debutboka Øya. Og i sin nyeste bok er det nok en gang andre verdenskrig, familiesaga og Hellas som er nøkkelord.
– Mitt forhold til Hellas har vokst enormt siden mitt første besøk da jeg var femten. Nå bor jeg deler av året på Kreta, jeg har konvertert til den gresk-ortodokse kirke og snakker språket. Det er der jeg føler meg hjemme, fortalte Hislop.
– Eneste måten jeg kan fortelle på
– Boken er satt til en periode i det forrige århundre som var spesielt tøff for Hellas, med både nazistenes okkupasjon og borgerkrigen som brøt ut etter krigen, sa Hislop, og la til:
– Jeg hadde kvinnelig karakter i tankene, som var modig og fyrrig. Hun får livet snudd på hodet, og beveger seg stadig mer mot venstre i det politiske landskapet.
Den kvinnelige karakteren heter Themis. Hun er 14 år når nazistene okkuperer hjemlandet, og i Themis' egen familie oppstår det store politiske motsetninger.
– Det er den eneste måten jeg kan fortelle en slik historie, ved å sette det til en liten kontekst. Vi følger en familie med fire barn, og hvordan barna vokser opp med dragninger mot enten venstre- eller høyresiden.
Men Hislop opplevde at det var vanskelig å komprimere førti år med politisk splid:
– Det som var vanskelig med denne boken, var at jeg ikke kunne starte ved begynnelsen. Jeg måtte vise den gradvise utviklingen av høyrepåvirkningen hos barna. Så når okkupasjonen kommer, så forstår man familiens ståsted og handlinger. Jeg kunne ikke bare startet med to høyrevridde barn, uten forklaring.
Vil gi dem en stemme
– En traumatisk fortid blir ofte begravet, og det er derfor så få vet om den. Det samme gjelder hvordan okkupasjonen og borgerkrigen er blitt tiet i hjel, sa Hislop.
Hun var en av de som visste lite om hvordan Hellas ble revet fra hverandre innad, mens resten av Europa feiret frigjøringen. Hun syns det var sjokkerende  å oppdage.
– Grekerne fikk så vidt dratt et lettelsens sukk da nazistene forlot landet, før borgerkrigen brøt ut og landet bittert ble delt i to leirer. Dagliglivet ble veldig påvirket av dette, det var faktisk flere som døde i borgerkrigen enn under okkupasjonen.
Hun ønsket å skrive denne boken etter hun så bilder fra fengselsøya Makronisos, hvor flere kvinner satt fengslet som politiske fanger.
– Jeg forstod hvor stor del kvinner har vært av motstandsbevegelsen. Når kommunistene rekrutterte til sin hær under borgerkrigen rekrutterte de aktivt kvinner, og for kvinnene var dette en mulighet til å være like. Men også i fangenskap ble kvinnene behandlet som menn. Makronisos var Hellas svar på Robben Island, hvor de innsatte levde under grusomme forhold og tortur – uansett kjønn. Det er utrolig at disse kvinnene var beredt for å sloss og bli torturert, sa hun, og la til:
– Jeg ville gi dem en stemme.
Vil advare britene
– Ingen er apolitisk. Politikk kan virkelig være ødeleggende, hvis man ikke en enighet kompromiss, fortalte Hislop, og legger til at hun ser nettopp dette i hjemlandet nå.
– Det er tre år siden Brexit-valget, og den gang da var et «No deal»-alternativ bare en teori. Jeg føler meg veldig europeisk og gråt på valgnatten. Jeg syns det var deprimerende og forstyrrende at jeg levde i et så delt land. Og nå er ikke teorien om «No deal» lenger det, men mer en realitet. Dersom det blir tilfellet kommer vi til å få sivil ulydighet, hvor folk sloss om godene og hva er det om ikke borgerkrig?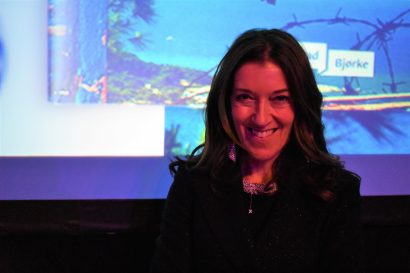 – Dette hadde jeg i bakhodet da jeg skrev boken, og kunne på en mild måte relatere meg til den greske opplevelsen, selv om det er å gange Brexit med hundre av det de opplevde.
Hun mener boken kan leses som en advarsel til sine landsmenn:
– Dette er en advarsel til britene, på hvor langt politisk splittelse kan drive et land og at det kan komme til fysiske sammenstøt. Kompromiss er ofte stien man burde gå.